Bars and Pubs – The Great Debate
Do you know the difference between a pub and a bar?
There are some key differences between bars and pubs.
Many people don't, and they are often confused as to what the two establishments have in common.
Let's compare bars and pubs and discuss the distinctions between them.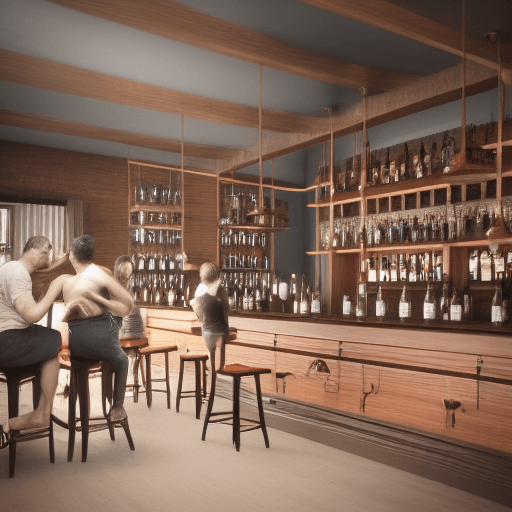 Both are establishments licensed to serve alcoholic beverages and often serve food.
But what are the differences? Pubs vs Bars
The answer to this question depends on what country you are asking about.
In the United Kingdom, a pub is short for "public house."
However, in the United States, a pub is simply a beer-focused bar. 
The word "bar" can be used interchangeably with "pub" in some respect. For example, both bars and pubs typically sell alcoholic beverages like beer, wine, and liquor.
However, bars tend to focus more on distilled spirits like:
While pubs typically have a greater selection of beers on tap. 
In addition to alcohol, bars also offer non-alcoholic options like soda and juices.
Pubs may offer these same options, but they also offer something that bars don't typically have, food.
Pubs will usually have a menu with items like burgers, fries, and wings.
Bars vs Pubs – The Ultimate Comparison
Age Requirments – Bars and Pubs
Bars: The age requirements for bars vary from country to country.
In the United States, the legal drinking age is 21, which means that most bars will only serve customers who are 21 or older.
However, there are some exceptions to this rule.
For example, some states allow people under 21 to enter bars if they are accompanied by a parent or guardian.
Pubs: All pub customers must be over the age of 18 in order to enter the pub.
This helps to ensure that pub customers are responsible for their own actions and that they understand the risks associated with consuming alcohol.
Alcohol Served – Bars and Pubs
Bars are known to serve alcoholic beverages such as beer, wine, liquor, and cocktails—for consumption on the premises.
Bars may have drink menus that patrons can review to order specialty drinks.
Often times these include a type of liquor like rum, bourbon, vodka, or gin and a soft drink to blend with it like soda, ginger ale, or fruit juices.
Pubs can serve many different types of alcohol, including beer, wine, and spirits.
Pubs typically have a wide variety of beers on tap, as well as a selection of bottled beers.
Wine is also usually available by the glass or bottle.
Food Served – Bars and Pubs
Common Bar foods include appetizers, sandwiches, and pizzas.
In America, bar food is often simple and easy to eat with one hand while holding a drink in the other.
This includes items such as pretzels, chips and dip, wings, and burgers.
Pub food is usually hearty and filling, and it often includes pub staples like fish and chips, shepherd's pie, and bangers and mash.
In recent years, pub menus have begun to include a wider variety of items, such as burgers, salads, and vegetarian options.
While pub food is typically heavy and greasy, there are now lighter options available to suit a variety of dietary needs.
Types of Clients – Bars and Pubs
A bar is a great place to people-watch. You have the singles looking to mingle, the groups of friends out for a night on the town, the couples on date night, and even the locals that come in for a quick drink after work.
No matter what type of person you are, you can find your place at a bar.
A pub is a place where people of all types can come to relax, have a few drinks, and socialize.
You're just as likely to find a group of rowdy college students as you are a group of retirees at a pub. This diversity is one of the things that makes pub culture so unique.
Types of Entertainment – Bars and Pubs
Many bars will have a pool table or darts board to encourage people to stay and drink for longer.
Some bars also have live music, which can range from a solo singer with a guitar to a full band playing covers.
Karaoke is another popular form of bar entertainment, and it's a great way to get people to interact with each other.
Pubs can offer a unique form of entertainment.
In addition to traditional pub fares such as darts and pool, many pubs now offer live music, trivia nights, and other special events.
Next time you're in the mood for a good time, be sure to check out your local pub for some great entertainment.
---
Major differences between Bars and Pubs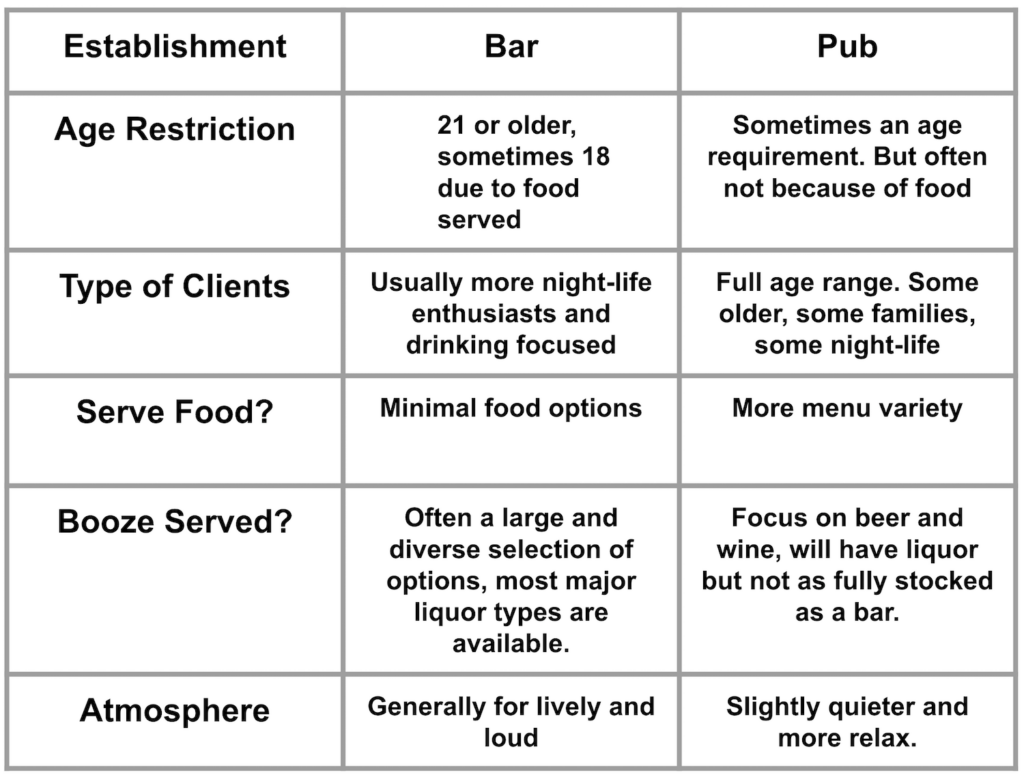 While bars and pubs may seem like they are interchangeable, there are actually some major differences between the two.
First and foremost, bars tend to focus on cocktails and mixed drinks, while pubs tend to focus on serving beer.
In addition, bars are typically open later than pubs and often have a more lively atmosphere.
While both bars and pubs can make for a great night out, it is important to know the difference so that you can choose the right spot for your evening.
Major differences between Pubs and Bars
A typical pub serves beer, ale, and cider from taps or casks, and wine and spirits are also usually available.
Pubs are typically decorated with dark woods, stained glass, and brass fixtures, and they often have a cozy, inviting atmosphere.
In contrast, a bar is typically a brighter, more open space that is focused on serving cocktails.
While some bars also serve beer and wine, they are not as likely to have a large selection of draught beers on tap.
Bars also tend to be louder and more lively places, with music playing in the background and people chatting and laughing at the tables.
Bars
Bars are typically more formal than pubs.
They may be found in restaurants, hotels, or other places where people go to socialize and drink.
A bar serves alcoholic beverages, such as beer, wine, spirits, or cocktails. They are typically located in busy areas, such as downtown districts or near nightclubs. Bars usually have a counter at which customers can order drinks and a seating area where they can drink them.
Some bars also have dance floors or pool tables.
Bars typically stay open late into the night, and many offer a menu of light snacks or food. Many bars also have TVs, which patrons can watch while they drink.
Some bars cater to specific groups of people, such as students or business people, while others are more general in nature.
Whatever their focus, bars provide a social setting in which people can relax and enjoy themselves.
Pubs
Pubs, on the other hand, tend to be more informal neighborhood establishments that cater to locals.
They usually have a pool table or darts board, and sometimes offer live music or other entertainment.
A pub, short for public house, is an establishment licensed to sell alcoholic drinks, which traditionally include beer, ale, and cider.
It is a relaxed, social setting where people can meet to drink and chat.
Pubs usually have a comfortable, informal atmosphere, with televisions playing in the background and bar snacks available.
The word "pub" is derived from the Latin word "publicus," meaning "for the people."
This reflects the fact that pubs were originally designed as meeting places for members of the community.
In Britain, pubs are often called "local" or "neighborhood" pubs because they serve as a hub for the local community.
Pubs typically have regular customers who develop friendships with each other and with the staff.
So which is right for you – a bar or a pub? That depends on what you're looking for. If you want a more upscale drinking experience with some light snacks, then a bar is probably your best bet.